Camp Randall Stadium Seating Chart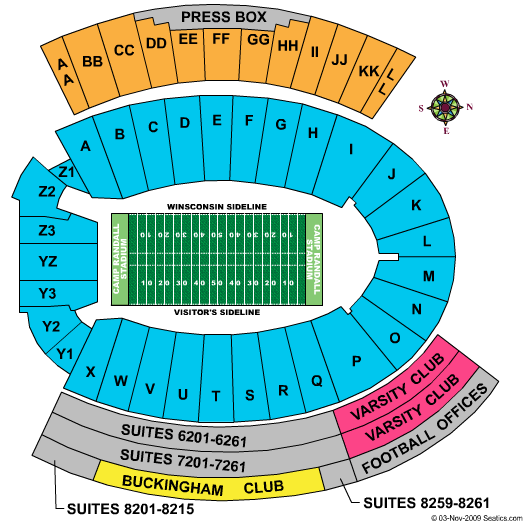 NOTE: Seating configurations can change depending on the type of event. Always check the individual event seating chart when selecting your tickets.
The Wisconsin Badgers sideline is in front of sections D-F. Where else, the opposing team sideline is in front of sections S-U. Sitting behind the sidelines are usually some of the best seats for a great view however, they do come at a higher price than other normal seats.
Camp Randall Stadium offers two club areas, the first is the Buckingham Club which located on the top of the Wisconsin sideline. Patrons in this club will have access to theater-style chairs, complimentary food, and non-alcoholic beverages, wait staff, as well as TV and radio coverage of the game. Next, is the Varsity Club is located on the Northeast corner endzone that comes with similar amenities as the Buckingham Club. As opposed to theater-style seats those in the Varsity Club are cushioned chairs.
Seats in the shade are rather limited in Randall Camp Stadium. Your best bet would be to sit in section B above row 64 or section EE above row 21 if you're looking to avoid the sun as much as possible.
Wisconsin student sections are in sections J-P. These sections are where you will find the most electrifying vibes of collegiate football. If you are looking to be a part of the party, sit next to these sections!
Secure your seat today by purchasing your tickets. Visit the Camp Randall Stadium schedule to get started.
To view the ticket & refund policy please read the ticket information page.